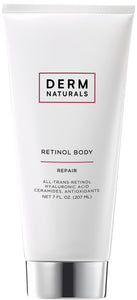 This redefining and deeply nourishing body treatment contains All-trans-Retinol at the maximum level safe and appropriate for the body.  Its unique and powerful delivery system provides maximum penetration and unparalleled results.
Featuring the latest in stem cell technology, PWR3+™ Antioxidant Complex  appears to lift skin to address sagging, while providing soothing protection against free radicals.
All-trans-Retinol  supports the skin's barrier function, promoting a collagen-rich appearance, while helping to visibly reduce fine lines and wrinkles, and improving skin texture and tone
PWR3+™ Antioxidant Complex (Leontopodium Alpinum, Green Tea Polyphenols, Resveratrol and Caffeine USP)
– Known to improve the appearance of the skin, making it look firmer and tighter
– Brightens and soothes skin while protecting from free radical damage
– Smooths the appearance of cellulite
Various molecular forms of Hyaluronic Acid penetrate skin and lock moisture in. Helps to plump skin and diminish signs of aging
Biomimetic Ceramide Complex provides essential nourishment to help replenish the skin barrier and prevent trans epidermal water loss (TEWL), improving elasticity and texture
Key Ingredients:
All-trans-Retinol, Leontopodium Alpinum Callus Culture, Green Tea Polyphenols, Resveratrol, Caffiene USP
Instructions:
Apply to clean skin once or twice daily or as directed by your physician.
Suitable for all skin types
7 oz. tube